Equine Acupuncture Appointments take place at the barn or training facility where the horse is located. Appointments usually take place in a quiet and open work area such as the cross ties or wash rack. The first appointment is usually around 90 minutes. Followup appointments are 30-60 minutes depending on the needs of the patient.
Dogs appreciate acupuncture too! Canine Acupuncture Appointments take place at your home. All we need is a quiet place free of distraction and other pets. A living room rug can be quite comfortable for an older dog, or if weather permits, a shaded area out doors. Canine acupuncture appointments are usually 30-60 minutes depending on the needs of the patient.
Free Custom Herbal Consult
To extend the effects of each acupuncture appointment, custom Traditional Chinese Herbal Formulas can be prescribed for your pet. Chinese herbs have been used for thousands of years to help bring patients back into balance. We use Dr. Xie's Jing Tang Herbs located in Reddick, Florida. Ask Dr. Wolfrum about a free herbal consult to see how Chinese Herbal Formulas can benefit your pet.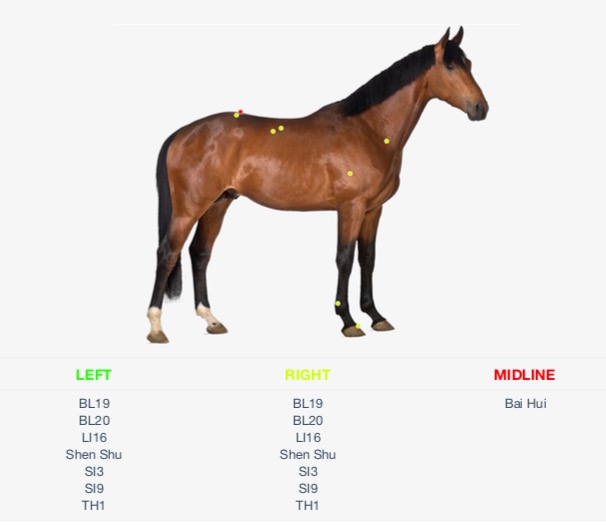 Each Acupuncture appointment comes with an ACUROVET report that is sent to the client, trainer, and primary care veterinarian. This way the entire health care team has access to the patient's acupuncture exam and treatment information.